As I said in my previous post, no words could describe the roller coaster of emotions I felt on my graduation day. Alhamdulillah I had my mother, sisters and aunt to celebrate with but it would have been a thousand times better had my other siblings and friends been there! I guess this is what I get for moving cities on a whim and graduating from a different varsity.
This is going to be a wordy and picture heavy post, so bear with me. It was a LONG day, and warranted taking lots of pictures!
My biggest worry on the day was definitely the weather. Wellington (and New Zealand in general) is known to have quite the weather changes. The weather forecast the night before told us to brace ourselves for lots of rain and winds. I don't know if I've mentioned this before on the blog, but I hate, with a passion, getting wet. I refuse going to the beach or taking part in water activities because of the whole getting wet part. It's not like I've ever had a bad experience or anything, it's just something that I realized about myself a few years ago. So you can imagine how worried I was. Thankfully though, the weather held up, and we even had clear skies for the first part of our ceremony!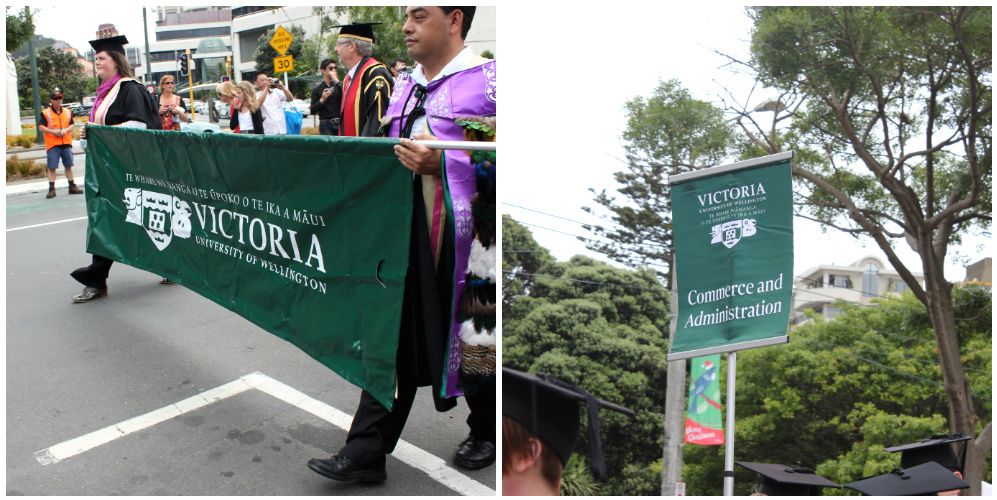 The graduation ceremony started with a procession from the Government Building, located opposite the national parliament buildings and went through the city's CBD and ended in the Civic Square where the Town Hall is located. It was a long walk, took almost 40minutes to complete, but to see people lined on the side of the street, clapping and cheering friends, family and strangers was a highlight for me. I found myself tearing up several times throughout the parade, and was wishing more of my loved ones were there to share this special day with me. InshaAllah the next time.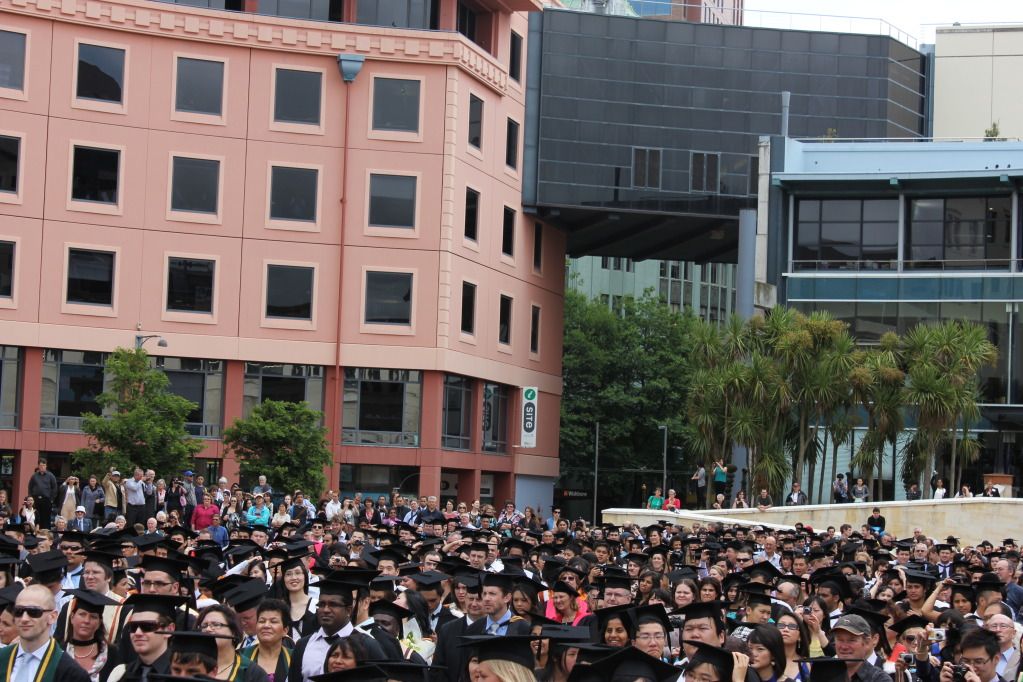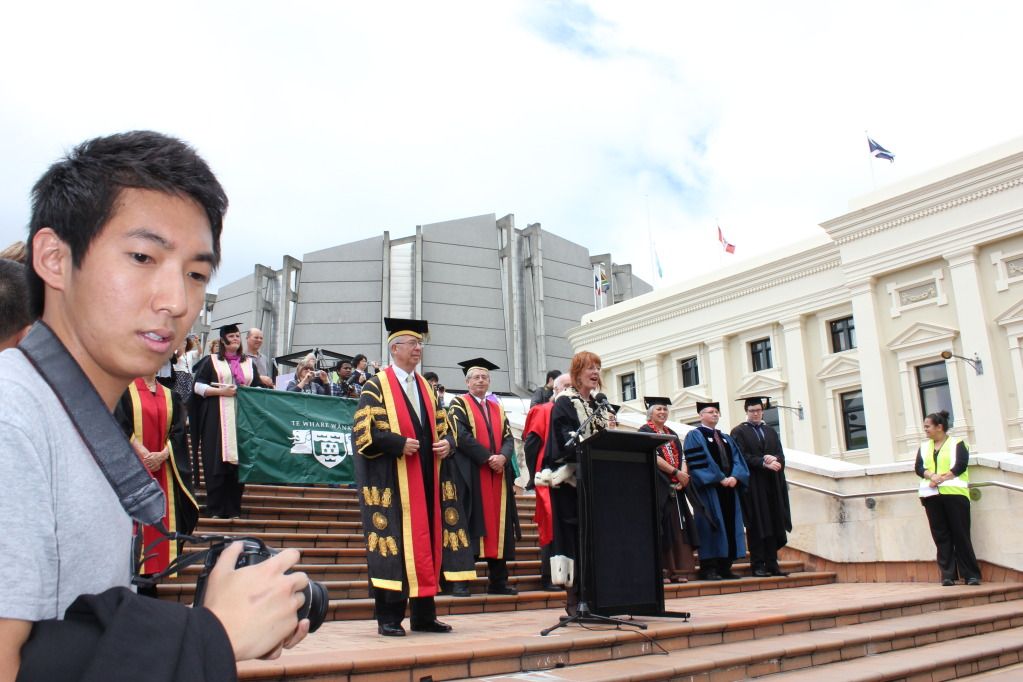 When the almost 1000 graduands, their famiiesy and friends filled the Civic Square, we were welcomed by the Mayor of Wellington; Celia Wade-Brown. Her short speech was followed by lots of cheering, picture taking and chatting.


Before I continue, I have to say, this graduation ceremony was by far the best I've ever been to! I've previously attended the graduations of friends and my sister from the University of Otago, but this surpassed all my expectations and preconceived notions about graduations. It might have been because this time, I was the graduand, or simply because it was a different university and a different city. Whatever it as, it was incredible!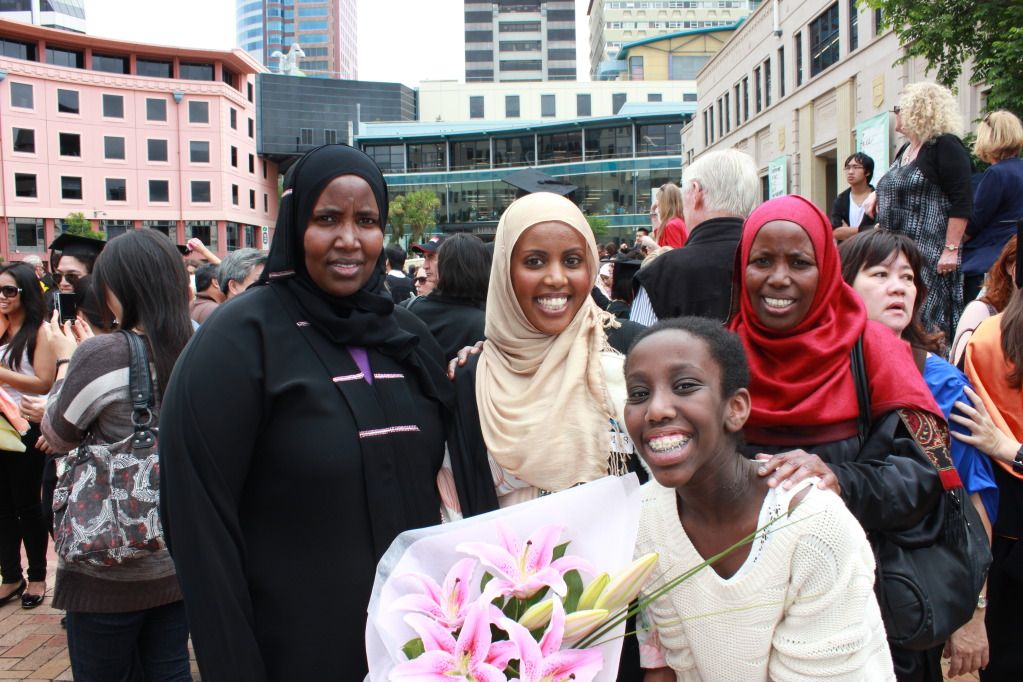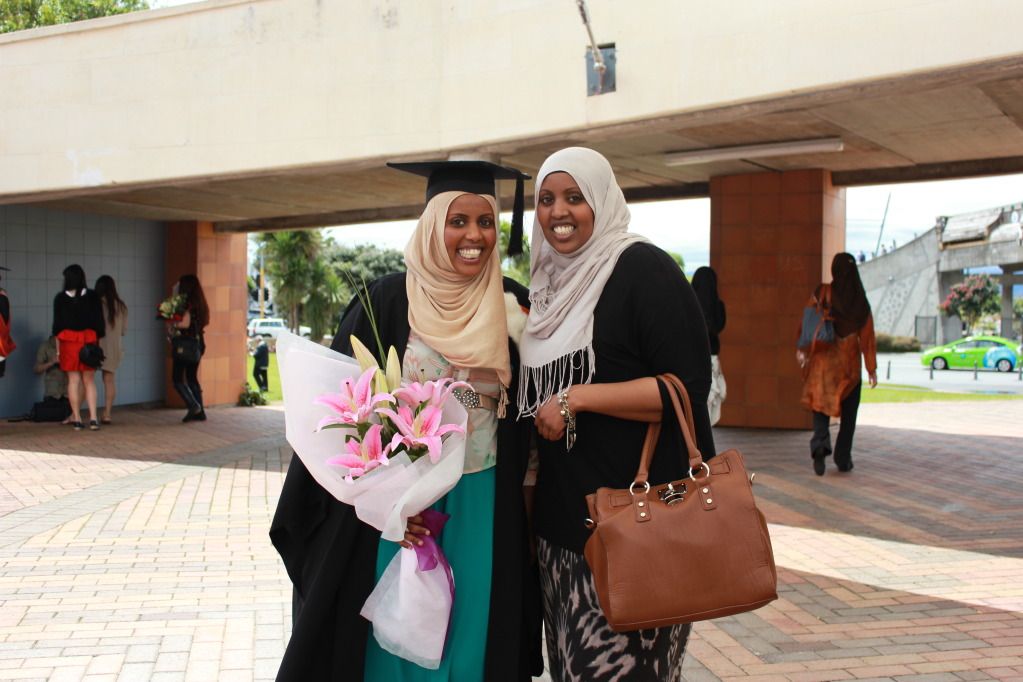 Anyway, the graduation ceremony itself was quite nice. We were welcomed into the hall by a Haka performance. The Haka is a traditional Maori war-dance
performed for various reasons: for amusement, as a hearty welcome to distinguished guests, or to acknowledge great achievements or occasions
.
Leading my fellow graduands into the hall was a great honor for me, and I will forever cherish he memory! The performance was then followed by a few words by the university's Pro Vice Chancellor which led to the most important part of the whole day. The Chancellor officially declared us graduates and we were finally allowed to wear our caps! The next two hours were spent listening to speeches by various people, the 2011 valedictorian and nearly 350 student crossing the stage. Off course, I was the first in my faculty(thanks to my last name!) and I was surprisingly not as nervous as I thought I might have been.
All in all, it was a fantastic day, spent with people I love, and began and ended with a bang.
This post is an ode to all the sleepless, stress-filled, emotional nights I spent as an undergraduate student. For all the nights spent nearly OD-ing on caffeine, crying and cursing. For all the nights wasted on the internet. For all the love, support and encouragement I received from my family and friends, and for all the things I accomplished by pushing myself more and more. Also, for the coming days that are filled with uncertainty, and the excitement of waiting and hope.
Now, onto the next phase of my life. So far, it looks like I'm going back for more studies, but nothing is for certain except that the last 3 and half years were among the best and worst years of my life.