If you've read a few of my posts from April(
here
,
here
and
here
), then you'll be aware that I went away for a couple of weeks. These 2 weeks away from my normal routine, from the stresses of "the real world" and from technology were a much needed and appreciated break. To say that I enjoyed it would be an understatement. There aren't enough words to describe the more-than-incredible experience I've had, but I shall try.
I am assuming most of you are aware of Seekers Guidance (if not, check our their website
here
now!) and if you're from Australia & New Zealand then the name Al-Ghazali Centre is not new to you. Well, these two and the Rasheed Memorial Dawah Trust from Auckland; New Zealand, teamed up to bring the Seekers Guidance Retreat to New Zealand.
You can imagine my excitement when the applications were open and with only 2 days for applications to close, I filled in a form, and sent it off in hopes of being offered a spot. As you'd have it, I didn't get offered a spot and I was heart broken. In my mind, this was an opportunity not to be missed. But with only about 120 available spots, and almost 400 applications, chances of being accepted were pretty slim. I accepted my fate, and forgot about it.
Fast forward to March, and to my surprise, I received an e-mail from one of the organizing members and in it was an offer to attend the retreat. This was in the middle of March, the retreat was due to begin from the 5th of April. I had to make decisions, quickly. At first, I (kindly) turned down the offer because I had too many things to consider. I had to adjust plans and even though I wanted so badly to attend the retreat, I had to pick what seemed as the best option at the time. After spending a night rethinking my decision, my gut feeling told me I was making a grave mistake, and so, I sent another reply (kindly) asking if my spot was still available, and lo and behold, it was. I quickly took it and decided to think about things later. For now, I was going to the retreat.
The first part of my trip was in Auckland. I went up North a couple of days before the retreat was scheduled to begin, and had 2 days to wander around Auckland city.
I have never been a great fan of Auckland, I've always considered myself a small-town girl in practice and in my heart. But this stay in the city changed my mind! I fell in love with Auckland!
It was such a rush walking around the city. I stayed at a hostel in the city center and so everything was within walking distance. After roaming the main road, Queen street, I took a break and sat at the viaduct, and admired the views! It didn't hurt that the weather was beyond amazing.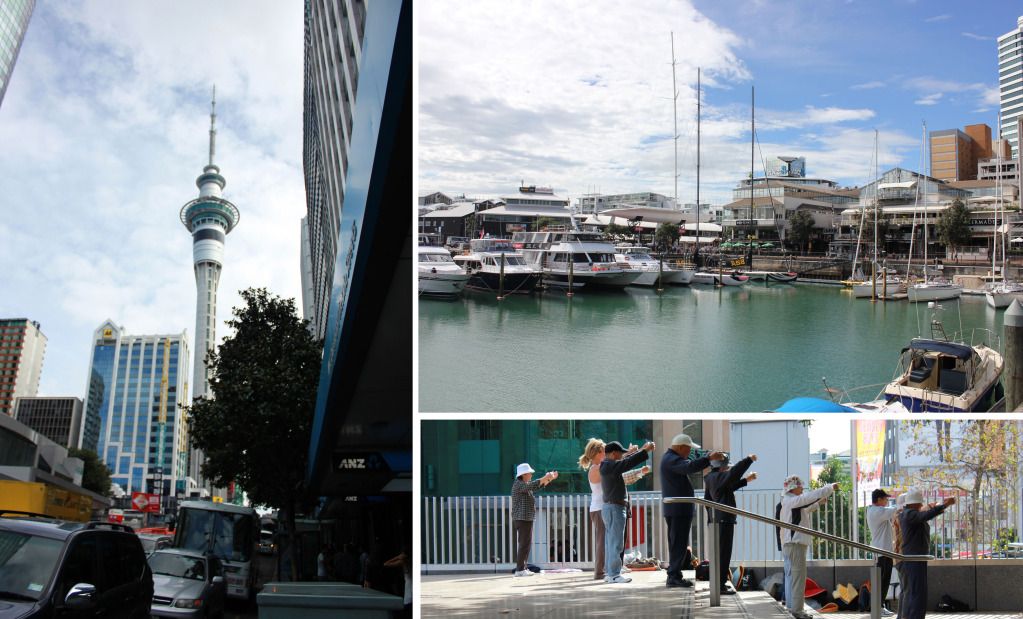 I had sushi at the viaduct, window-shopped on Queen street and enjoyed a frozen yoghurt at Aotea Square while watching old folks practice Tai Chi. Having no plans or any commitments made enjoying the city easy. I was finally able to take in what the city has to offer without any restrictions and I loved every minute of those 2 days.
On the 3rd morning, I made my way to the airport masjid and from there, joined the rest of the retreat group and made our way to Taupo.
On the way, we got to stop at one of New Zealand's best attractions. It's kind of funny being a tourist in your own country, and having never spent much time in that part of the North Island, I had my camera on standby and my eyes were glued to the beautiful views we got on the way. Best of them was Huka Falls.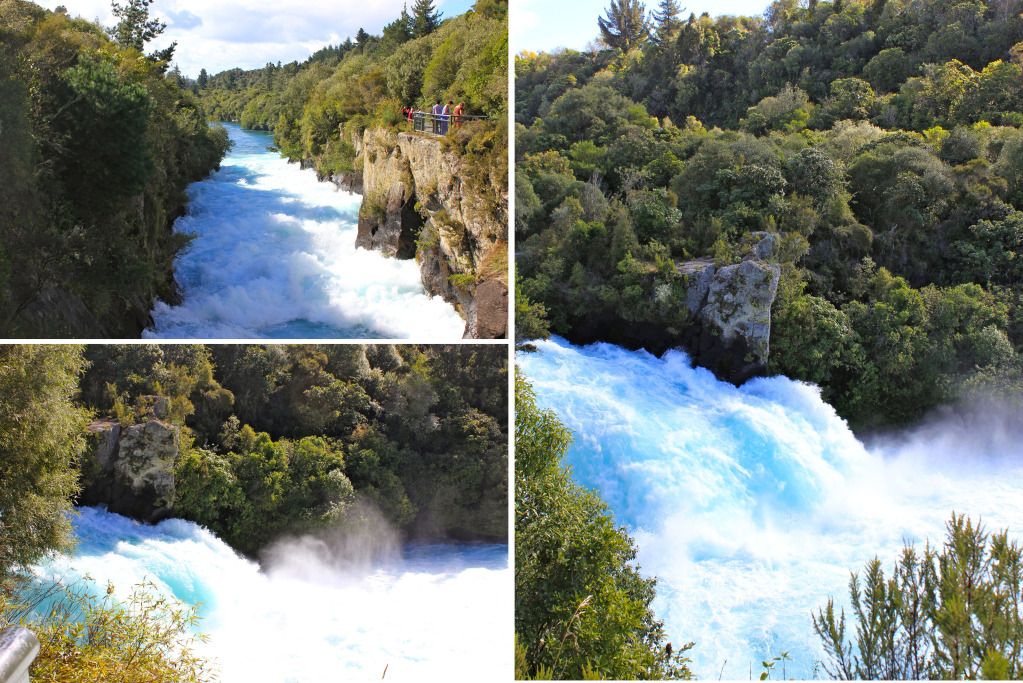 I was gob-smacked when I saw this, and this is where I plug a promotion of my country; New Zealand truly is 'Clean, green and Beautiful' and if it's not already on your bucket list, make a note now! You will never regret coming here.
Oh and this is where I met one of the sweetest blog followers! I was surprised when a young lady came up to me and asked if I was Amina, and when I answered 'yes' she excitedly told me that she was a reader of my bog. Never in a million years did I expect to be recognized from my blog. But meeting Laalane made me proud of the fact that my online ramblings have received such a positive reaction and that people enjoy my ramblings. That little meeting and the conversation(s) that spun from the chance meeting made this little blog of mine that much more special to me! Without a doubt, the friends I've made through this blog as well as the many other blogs I follow are just as precious to me as my friends from my real, non-virtual life.
Laalane, I love you and I am so happy that I got to meet you! Here's hoping we see each other again soon, inshaAllah! I'm glad I now have an excuse to come to Melbourne!
P.s. I expect more comments from you now that I know you read my blog! lol